Traces of History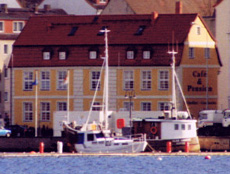 Established in 1796, the "old harbour house" glamourously represents a majestic late baroque style.
For more than 200 years, the capstone over the entrance has indicated the cadastral registration with the city of Rostock as well as revealed Joachim Jenssen as the constructor and first owner of the building.
There is clear evidences of the owner's wealth, which can be seen in the nine axis south facade and mansard roof. Gorgeous stucco ornaments on the middle three axes are witnesses of German rococo style (1760-1800).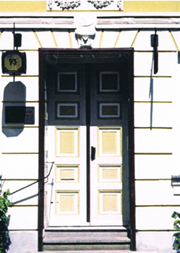 Throughout history, many famous families have lived here: Peter Flint and councillor of commerce Anton Crotogino, tire master Gerdes and shipbuilding master Wilhelm Zeltz (1814-1864), a co-owner of the wooden shipyard "Tischbein und Zeltz", later Neptun Yard.
However, within the period of rapid political and economical transformation the previous type of use became insufficient and the house needed to be used commercially.
Since 1997, after having been reconstructed once again, the now named building "Altes Hafenhaus" is a hotel.
Today, the hotel benefits from generously fitted apartments and presents the ideal environment for functions and celebrations. Furthermore, the "Altes Hafenhaus" profits from its central location. Close to the New Market (city centre / St. Marien Cathedral) and the old Port directly on the bank of the river Warnow (northern Old Town / city centre). Not far from the hotel one can find the historical Old Town Centre with St. Peter and St. Nikolaj church. Furthermore, the City Port, theatre as well as Kröpeliner Straße, which is the heart of Rostock with its shopping centres, numerous restaurants and bars, is only a few steps away.